Hello Friends!
Took a quick hiatus because I was waiting with bated breath for this: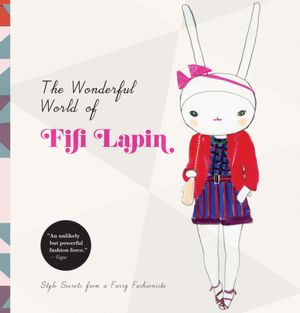 It finally came in the mail and I could not be more stoked or satisfied with the content!
but soon after creating that post, I made it a mission to get my hands on her book.
I won't lie - getting it took a little bit of elbow grease.
'What Shall I Wear Today?' is the first version of Fifi Lapin book and created for readers in the UK, so it's a bit harder to find if you live in the US.
However, the
US version
of her book was released earlier this year and has the same pictorial content.
When I first saw this book, I thought it was a cute idea.
I wanted to liken her to Hello Kitty, except she's a bunny.
But Miss Lapin goes far beyond "cute".
Whether you're just beginning to venture into the world of personal fashion sense,
curious about international fashion trends,
or wanting to pursue the vision of what you want in your wardrobe,
Fifi Lapin's book is perfect for all fashionistas!
The book includes interviews with renowned fashion designers
and illustrations of Fifi in high fashion runway looks
(the original runway looks are featured as well).
Plus, you can even read about fun recipes and quick tips
(such as the recipe for carrot cupcakes and how to create a vintage starlet make-up look).
(All images taken from Amazon.com)

Now, I have to tell you - Fifi Lapin's book consists of some pretty heavy weight stuff, fashion-wise!
If some of these fashion designers are new to you
or you realize that you can't afford an outfit shown in the book
(which is probably common, seeing as how many high fashion runway looks are shown),
don't get discouraged and put down the book!
The purpose of this book is most likely not to flaunt high priced outfit,
but to encourage people to develop a well-rounded wardrobe and to be creative.
Choose looks that are interesting to you.
Be a little daring. Be bold.
Pick something fun that you haven't done before, but are interested in trying.
Don't worry about copying it verbatim (that's no fun ♥).
If it doesn't work out like how you wanted it to, tweak it.
If your style is athletic, don't feel pressured to jump into the frilliest outfit in the book.
Maybe go to one of your favorite stores and choose a simpler version of the outfit,
but tailor it to your needs.
Make it YOURS.
Best of wishes, dolls!
If you purchase this book, let me know what you think of it!
Hope you've been inspired!
xoxo Habibti